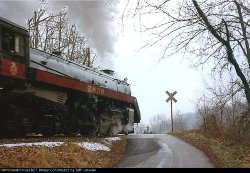 Welcome to the RRPictureArchives.NET contributor site of Jeff Lisowski.

My name is Jeff Lisowski, and here you will find mainly my Father's photography from the 1980's when we chased steam all over the Northeast and below the Mason-Dixon. My Father was a volunteer at the Wilmington & Western Railroad in Delaware for a few years in the early to mid 1980's.




I have lived out west here in San Diego for about 5 years now, so, most of my photos are chasing western steam. Although I do make the occasional trip back east to do some chasing as well.





I have very recently received some photos from a Wilmington & Western volunteer Tim Cronin, and you will find those here as well.




Any questions or corrections, please feel free to email me.




Thanks for looking.



You may browse my collection of pictures via the menu located on the left hand side of the page. I hope you enjoy the collection and thanks for stopping by!
Note: This site is best viewed in Internet Explorer 6.0 or above.
Select one of the links from the menu on the left to begin browsing the collection.